HOW MY BRAIN WORKS
A Guide to Understanding It Better and Keeping It Healthy
How My Brain Works is a Winner in the 2021 IAN Book of the Year Awards in the "Health/Medicine" category.
How My Brain Works has been honored as a finalist of the 2021 International Book Awards in the "Health: Psychology and Mental Health" category.
How My Brain Works has been honored as a Silver Medal Winner of the Readers' Favorite 2021 International Book Awards in "Health-Medical" category.
How My Brain Works has been honored as a Finalist at the New Mexico/Arizona Book Awards.
How My Brain Works has been awarded the Distinguished Favorite Award from New York City Big Book Awards.
About the Book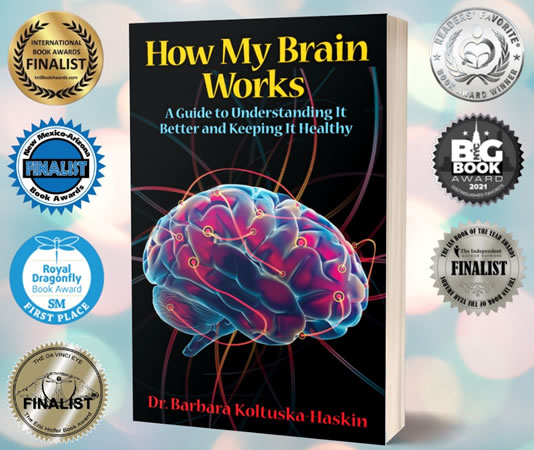 The wide range of useful information contained in How my Brain Works can help the reader in many ways: basic understanding of this unique organ, advice for anyone concerned about the possibility of a cognitive problem, and the wisdom of the author's experience in helping her many patients and others to keep their brains healthy and working at their highest level.
Students with learning problems, young people considering varied career paths, victims of brain injuries or mental disorders, the middle-aged and elderly at risk of dementia—all gain from the knowledge Dr. Barbara Koltuska-Haskin has gained in her many years as a practicing neuropsychologist. In easy-to-understand language, she explains the countless ways the evaluation process she uses can help people in a wide variety of situations, and how the results can be used for maximum benefits.
Plus, building on this information, Dr. Koltuska-Haskin offers a wealth of advice and tips on how to build and maintain optimum brain health, reaching widely into the physical, psychological, nutritional, and spiritual worlds, she pulls together new research as well as age-old treasured learning to create an everyday guide to harnessing our most powerful mental tools shaping the healthful and successful lives we all seek.
How My Brain Works can be purchased as a paperback or ebook from Amazon or as a paperback from Walmart.
Read a SouthWest Writers interview with author Barbara Koltuska-Haskin.
Dr. Koltuska-Haskin became a Goodreads Author in October 2020. Please visit her author's page. If you have read her book, please write a review.
Editorial Reviews
Photos from the How My Brain Works Book
Click on photos to view enlargement.